Delair receives first official European Union authorization for BVLOS drone operations with the UX11 UAS
The EASA (European Union Aviation Safety Agency) has implemented the first union-wide regulations for drone operations, including for BVLOS (Beyond Visual Line Of Sight) flights. Thanks to the unique features of the Delair UX11 UAS, in particular the real-time transmission of images and a segregated Flight System Architecture, Delair is one of the first companies to receive the EU BVLOS certification, which enables the company to strengthen its capability to assist its customers and partners in carrying out their European drone operations in a simple and future-safe manner.
Drones provide an efficient means of collecting aerial imagery
Delair enables companies, across many industry verticals, to benefit from imagery data, including orthophotos, multispectral data, LiDAR point-clouds or even real-time video, in order to achieve precise surveying data and valuable insights into the state of their enterprise assets (learn more about drone applications here: Mines & Aggregates, Infrastructure & Utilities, Agriculture & Forestry, Construction, Oil & Gas, Security & Defense). One of the most efficient ways of collecting aerial imagery is by use of drones, but operating drones involves first getting the authorization to fly.
From national to regional regulations
Obtaining the authorization to fly a drone traditionally requires following the national rules, which differ largely depending on where you are in the world. Some countries have been known to be very restrictive, whereas other countries have been early to implement clear and flexible guidelines. Recently defined regulations from the European Union will now make access to drone operations throughout the union much simpler, no matter which member state you are operating in.
Delair has a broad experience in drone operations, including BVLOS
Delair has been an active member of the UAS (Unmanned Aerial Systems) industry for more than a decade. We have extensive experience in operating drones, and assisting our customers and partners in operating drones, all around the world for applications across many industry verticals. This includes more advanced use cases that require the drone to fly beyond visual line of sight of the pilot (referred to as "BVLOS"). Delair was the first company in the world to have a UAS authorized for BVLOS flights, setting the foundation for us to carry out many BVLOS operations for projects including  power lines, railways, roads, pipelines, industrial surveillance, etc.
Standardized, attainable BVLOS drone regulations bring on new possibilities 
Delair is an active member of various regulatory working groups, including the key European groups, where we provide our experience as drones operator and manufacturer to help establish safe and easily accessible regulations.
The new regulations from EASA will make it simpler to obtain and adhere to drone regulations, mainly because the rules will be the same across the union. But the rules also introduce other exciting changes, such as the possibility of operating BVLOS flights without the need to first have a commercial pilot certifications, which was otherwise often a prerequisite in the national BVLOS regulations.
Delair is one of the first to receive approval according to the Predefined Risk Assessment #01 (technically referred to as "PDRA-01"), a standardized scenario for BVLOS operations. We see the new EASA regulations as an important milestone that will further accelerate the adoption of drone operations.
A transition phase for BVLOS drone flights 
Currently, the national regulations in Europe are still in place, but they will transition to the European-wide regulations starting from the 31st of December 2020, which makes it critical to obtain European authorizations as soon as possible to ensure the future of your European drone operations.
Delair is excited about this important evolution to drone regulations and we continue to remain at the disposal of our partners and customers to ensure safe and efficient drone operations  across the world.
Technical details on European Union drone regulations
EASA defines the following categories for drone operations:
Open
Low risk. No pre-approval. Limited to drones weighing up to 25kg and flying below 120m. Only VLOS.
Specific
Increased risk. Authorization by NAA (National Aviation Authority) based on Specific Operation Risk Assessment (SORA).
Certified
Risk as manned aviation. Requires certification of UAS and operator.
A part of BVLOS flights fall into the "Specific" category and the first type of BVLOS operations are defined by what is referred to as the "PDRA-01" (Pre-Defined Risk Assessment). Delair has obtained the authorization for PDRA-01 flights for its Delair UX11 UAS and we can therefore also assist our partners and customers on this category of operations.
The Delair UX11, the PDRA-01 authorized UAS
The Delair UX11 is built for a wide range of drone operations, including the possibility to fly for up to an hour and BVLOS. The UX11 was quick to achieve the PDRA-01 (EU BVLOS regulation) due to mainly three important are unique safety features:
Transmission of images while in flight, enabling the pilot to have real-time feedback of the overflown area
A flight system architecture segregating the Flight Termination System (FTS) from the Flight Control and Guidance System, allowing the controlled termination of flight
Precise and reliable geofencing, enabling the control of no-fly zones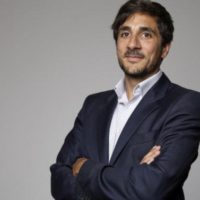 Watch this webinar with Benjamin Benharrosh, a Delair co-founder, where he discusses use cases for BVLOS operations.