Bolloré Africa Logistics choose Delair's solution to make a topographic mapping of 150 km x 500 m in order to create a new railways 
DT18 UAV strength
Topography was a strong need, which, so far, was mainly targeted by lower endurance systems.
The strength of the DT-18 drone is to be able to fly longer while retaining its small weight.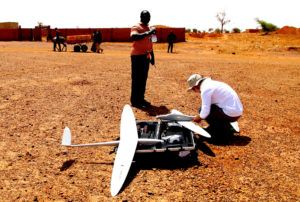 In France (where regulations limit flight altitude to under 150m AGL) the DT-18 UAV can achieve in one flight 400 ha of area coverage at 4cm GSD (ground sampling distance = the size of one pixel on ground).
In Niger, where there is no such limit, a 1000ha flight at 12cm GSD was achieved while flying at 500m AGL.
---
The customer needs
Bolloré Africa Logistics required a topographic mapping in order to build a railway between the cities of Niamey and Dosso (and extending a bit further after Dosso).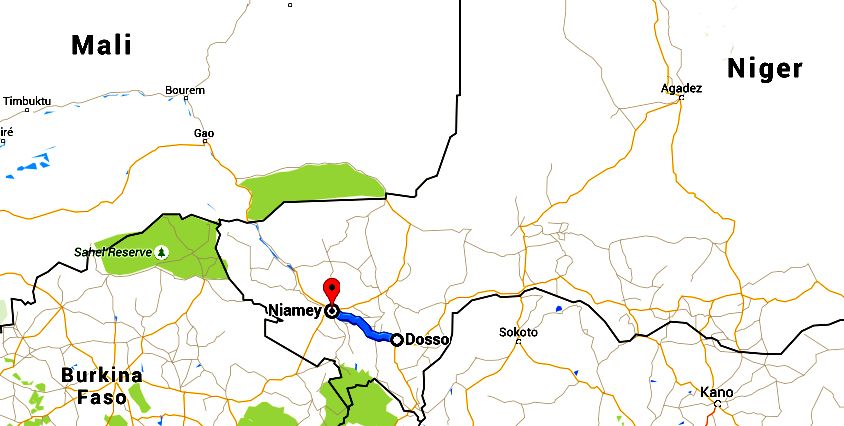 Our data had to be provided to an engineering company in order for them to estimate the excavation needs first and then draw the railway. Needless to say, their main tool is AutoCAD and not GlobalMapper.
---
Drone Data Acquisition
It took 4 days to complete the flights over the whole area, which, being a country not far from war zones, presents a few challenges.
The DT-18 drone performed 8 flight legs along the 150km stretch in order to ensure complete coverage of the 300m total image width which was needed (at the end we wound up covering 400m of width).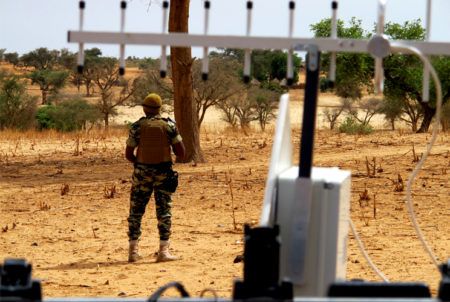 The entire mission culminated in 20 flights, and approximately 1,200km flown which equates to an average of 5 flights a day, 60km per flight (we like to keep maintain extra battery life for reassurance during all flights), 300km flown per day, and coverage of over 1,200ha at 4cm GSD.
 A total of 60,000 images at 5 megapixels each were captured (out of which, 48,000 were kept with the help of a filter which sorted based on shutter time, aircraft orientation, position, etc..) with a lateral overlap of 60% and longitudinal overlap of 75%.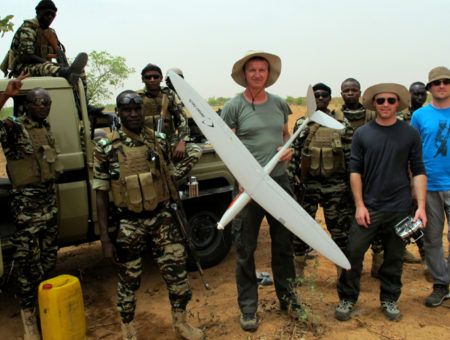 ---
 Ground Control Points
In order to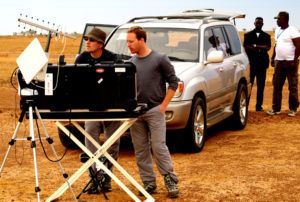 achieve the extreme precision that the customer required, it was necessary to put in place ground control points.
A Trimble RT4 GPS was bought by the customer, and a few GCP (Ground Control Points) were measured in places indicated by Delair.
Because of the very short time available, it was decided that we measure as few points as possible, therefore reducing the precision of the model.
17 points were measured along the entire 150km.
---
Processing the data
Processing 48,000 pictures with 17 GCP to create an AT (aerotriangulation) in Correlator3D on a single powerful computer with a typical NVIDIA graphics card took 72 hours with a mean error of 0.40 pixels. This function cannot be paralleled.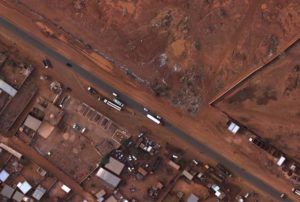 The aerotriangulation process takes the pictures, the position and exterior orientations of the camera for each picture (as measured by the UAV), and gives new positions and exterior orientations for the camera based on said pictures (by finding common points in several pictures).
It also provides the mean error for each measurement by the UAV. With the DT-18, the mean error is a few degrees of orientation and a few meters in position.
When the AT is done, a Digital Surface Model (DSM) is generated.
Processing 48,000 pictures with 17 GCP took 6 days.
However, this work can be done in parallel, so, with 2 computers, it is another 72 hours of work.
The result is a GeoTiff file (actually several blocks) with one pixel every 4cm on ground. The precision achieved in Z (which is what interested our customer) wound up at 30cm, which is a very good result considering the very small amount of GCP available. This mean error was measured on the GCP themselves and on 5 other points that were measured by the Trimble GPS a few weeks after our job.
From the DSM, a DTM (Digital Terrain Model) is created which is, again, 48 hours of work.
The DTM eliminates the trees and houses from the elevation model.
The data is then provided to the customer as a .dwg file (to work in AutoCAD), with a sampling of one point every 20 meters (very far from the original available sampling of one point every 4cm).

In the end, in order to provide an absolute 30cm Z accuracy DTM of an area of 150km x 300m with a sampling of 4cm, around 270 hours of calculations are necessary for the over 48,000 pictures at 5Mpix. A better accuracy could have been achieved with more GCP (the DT-18 system is capable of 8cm absolute Z accuracy).
---
Conclusion
Delair has designed a range of UAVs that can acquire data on long corridors to go beyond what is done today in terms of photogrammetryusing UAVs.
Not only is the airframe able to fly 100 km but the image processing capacities that are needed to process such huge datasets are very rare compared to what is typically being done using UAVs.

The potential uses of such long endurance UAVs are endless for the Energy (power lines, pipelines, gas lines, rivers) or transportation companies (railways, highways), which we believe are the next biggest market niches to explore.
In countries like Niger where the lack of infrastructure and big security matters can be a problem for classical survey systems, the use of UAVs could grow very quickly.