Simplifying vegetation management for power lines with drones, digital twins and artificial intelligence
Trees that are too close to power lines are a significant hazard and a major cause of power failures during high winds and storms. In dry weather conditions, branches touching the lines can catch fire, endangering human life and causing tremendous damage to the environment and existing infrastructures.

Common risks related to trees close to power lines
Wildfires
Electrical arcing is a common cause of wildfires in bad weather conditions
Power outage
Trees are the second  most common cause of power outages
Safety risks
Broken network equipment can result in dangerous accidents
Vegetation clearance regulations apply to power lines
Mitigating vegetation-related risks is a major challenge for electrical companies. Each time they face an incident it is expensive to repair the damage and likewise it is a challenge to remain in compliance with regulations for vegetation clearance to ensure the safety and reliability of power supply.
The purpose of those regulations is to issue several rules applied to distribution companies and  land owners:
Define the distances between trees, electrical conductors and the infrastructure itself
Set the rules about the responsibility for trimming trees
Assign liability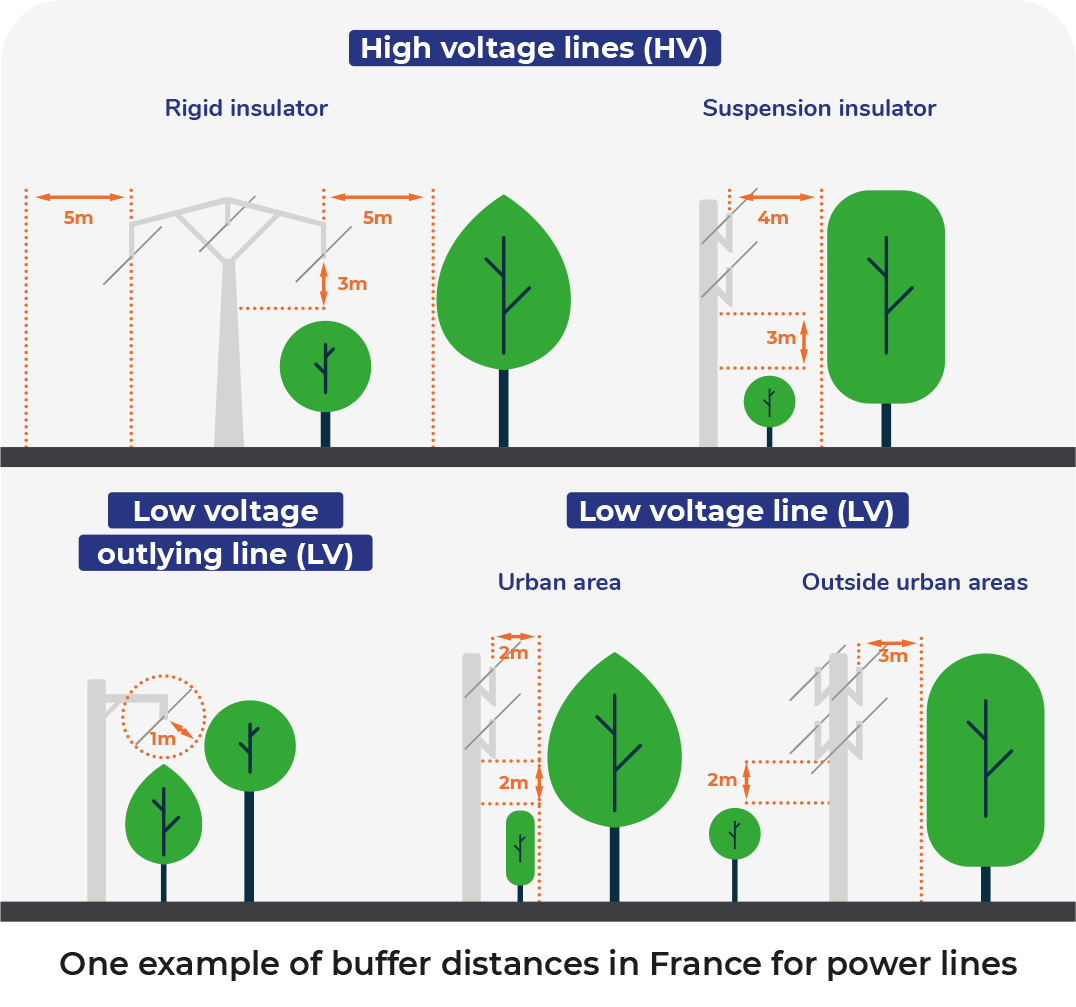 Drones, digitization and AI to optimize power lines inspection operations and vegetation management
Vegetation management is therefore a mandatory operations and maintenance (O&M) activity for electrical distribution and transmission companies who allocate large amounts of resources in inspection and control programs.
Traditional methods for powerline inspection are time consuming and many times hazardous for linemen.  New, more modern and efficient approach relies on digitizing physical assets, to obtain what is referred to as "digital twins",  thanks to aerial surveys. This data is then aggregated and analyzed with cloud-based artificial intelligence and machine-learning algorithms to get actionable insights.
Besides providing objective and comprehensive data, this new digital inspection process empowers electrical companies to more frequently inspect their infrastructure and store historical data, which in turn help to build predictive models and detect potential hazards before they occur.  This moves the process from reactive to predictive maintenance.
Digital tools offer new opportunities to facilitate maintenance work, optimize inspections and pruning activities:
A non intrusive method, allowing an exhaustive digitization of the powerline and its surroundings to navigate and remotely inspect an up-to-date digital twin of the infrastructure
Flexible and quick deployment, allowing spot inspections in areas where vegetation grows faster
A more reliable and accurate method compared to the human eye
Build predictive models based on historical data to plan your pruning programs
Get more insights about your infrastructure and get the most out of your data.
The vegetation management analytic application: automatic detection and risk analysis of vegetation near your power lines 
The vegetation management analytic application will automatically calculate the distance between the conductor and the vegetation, and it will display the risk zones with different levels of priority to take action. These distances are customized according to each company's buffer requirements.
Pruning priorities references for a vegetation inventory in high voltage lines

Vegetation position to the conductor
Less than 0,6m
Between 0,6 and 2m
Between 2m and 3m
Between 3m and 5m
More than 5 m
Vegetation above the conductors in the right-of-way

U0

U0

U0

U0

Vegetation alongside the conductors

U0

U1
U2
U3
Vegetation below the conductors

U0

U1
U2
U3
Example of clearance distances in France for inventory management of a HT line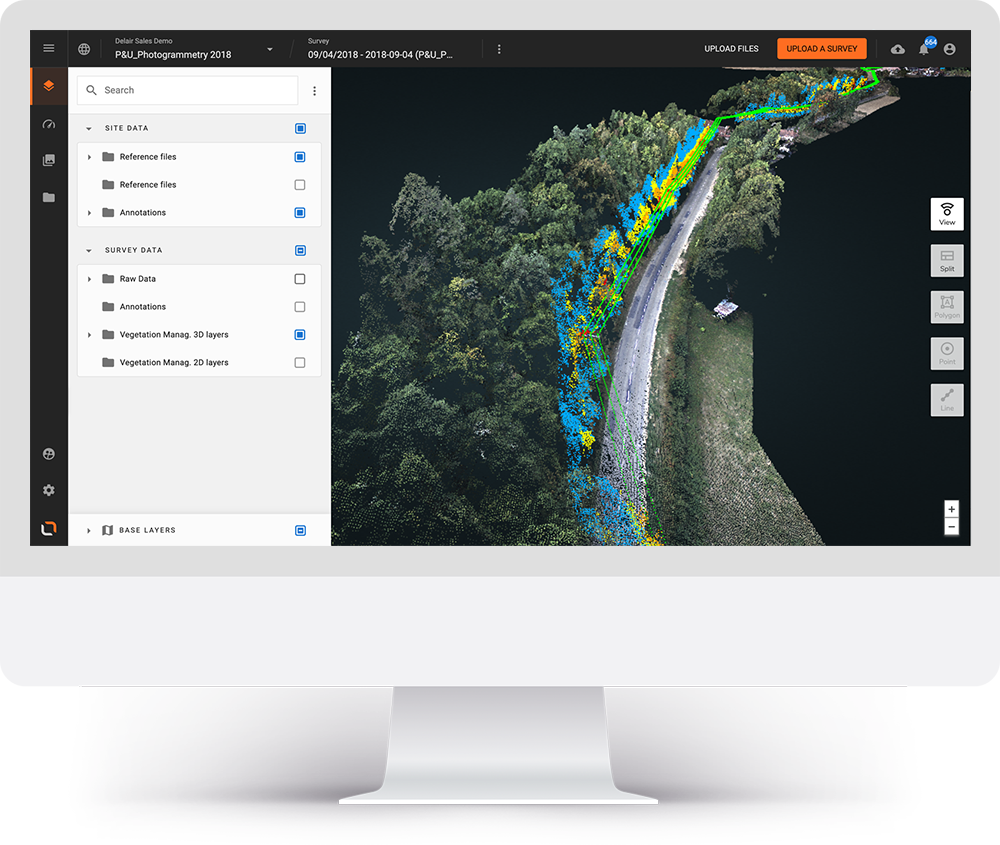 In order to simplify the pruning activities, the risk areas can be grouped based upon trimming priority.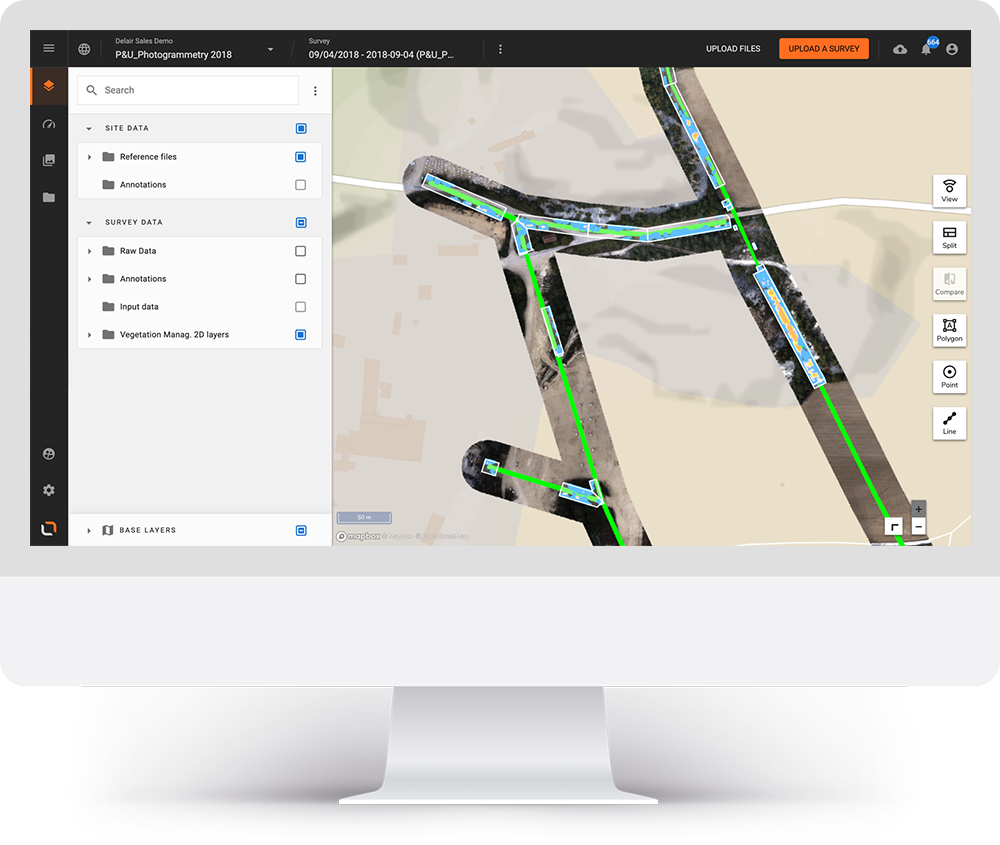 Using AI to manage the risk of vegetation near your infrastructure unveils multiple business benefits:
Get a reliable vegetation inventory faster and with more accuracy
Control risk zones where vegetation grows faster more frequently, to prevent incidents
Capitalize on digital data to build predictive models of vegetation growth
Virtually inspect your entire infrastructure, make annotations and easily share information with your team
Control contractors' pruning activities and be sure you comply with regulations
Remotely detect incidents to be able to  send the appropriate team and improve employee safety
Delair's vegetation management solution is up to 60% less expensive than traditional methods
The traditional method of walking inspections along power lines can be tedious and influence the accuracy of the inspection. It also endangers linemen when climbing towers or driving remote roads. The risks are even higher when the infrastructure is already damaged.
The daily productivity of one field team is around 5km/day, when performing the inspections by foot and there is in general no imagery / visual data collected.
The cost of walking inspections is up to 60% more expensive than a drone survey combined with an aerial data management platform. 
Helicopters equipped with LiDAR sensors are another frequently used method to inspect power lines. The efficiency of LiDAR inspections is good but the costs are 10% higher than with drone inspections combined with an aerial data management platform solution.
A digital vegetation management strategy is the most cost-efficient solution for inspecting your power lines and the most accurate method for monitoring vegetation and right-of-way clearance.