In October 2017, Delair was called on by EFLA, an engineering and consulting company based in Iceland. The project was to map and survey power lines over two areas for Landsnet, the main transmission system operator in Iceland.
The first zone Delair had to map was North in Akureyri, the second one near Reykjavik in the south. For the LiDAR acquisition by UAV, two long range drones were used: the DT18 HD PPK and the DT26X LiDAR each with their own technologies: Photogrammetry and LiDAR. This was the first time a LiDAR was flying in an nUAV in Iceland.
Lidar acquisition by UAV in Iceland for EFLA in October 2017
The mission: LiDAR acquisition by UAV
The first part of the mission took place in Akureyri. Landsnet would like to build a new power line between Akureyri and Holasand. The main goal is to improve energy efficiency by increasing the transmission capacity and ensuring the stability of the power system. In this particular part of Iceland, some parts of the future line are really difficult to reach due to rocks and rivers. The use of drone allows rapidity and efficiency on those type of missions.
For this particular case, the DT18 HD PPK fitted exactly the need. More than 70 linear kilometers were covered. After every single flight, the data was uploaded on the Delair web server, for photogrammetry preview the day after. The precision of the data allowed EFLA and Landsnet to better preview the future line without having to human check it.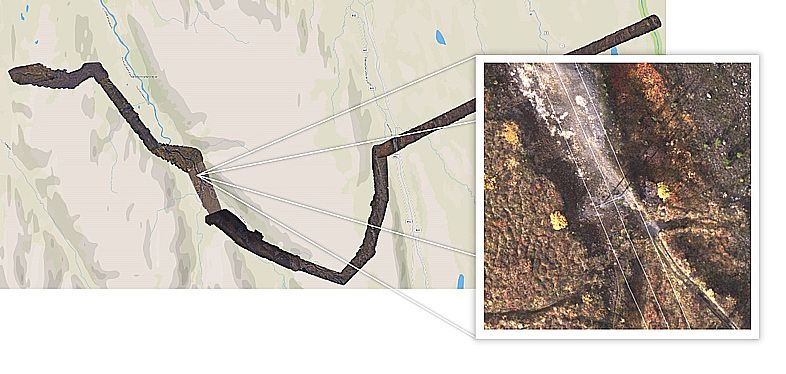 In the south of Iceland, near Reykjavik, EFLA wanted to take a cloer look at the LiDAR technology carried in Delair DT26X LiDAR UAV and, at the same time, performing the first LiDAR flight in Iceland. But what is the point of using such high value sensorsSo,high-end?
The LiDAR is a scanner, LiDAR standing for "light Radar". It sends thousands of pulses per seconds, calculating and measuring how long it takes to reflect them back. While RGB cameras can only work with ambient light, the LiDAR sensor can detect points whatever the light. The incredible accuracy of the LiDAR is world known and a key asset in some cases such as tree canopy, mine sites and power lines.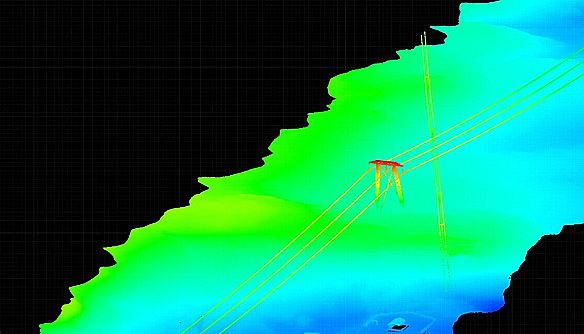 In this second part of the mission, after having processed data from our UAV, the point cloud allowed EFLA to better see the lines, insulators, conductors and vectorize them in three dimensions. Delair dedicated algorithms have been run to perform, amongst others, ground clearance, distance in-between lines.
After 10 DT18 HD PPK and 2 DT26X LiDAR flights Delair accomplished the mission.
About EFLA
EFLA Consulting Engineers is an Iceland based general engineering and consulting company with a leading positon in Iceland and widespread international activities. The company offers drone services to supports civil engineering and infrastructure development, urban and agricultural planning, environmental assessment and planning as well as asset inspections and maintenance support.
Learn more about EFLA : visit EFLA website
If you want more information about
LiDAR acquisition by UAV, please contact us: