In a big step for the powerline and drone industry, Delair and ENEDIS light the path towards an industrialised drone-based solution that could lead to digitalised and optimised power line management worldwide.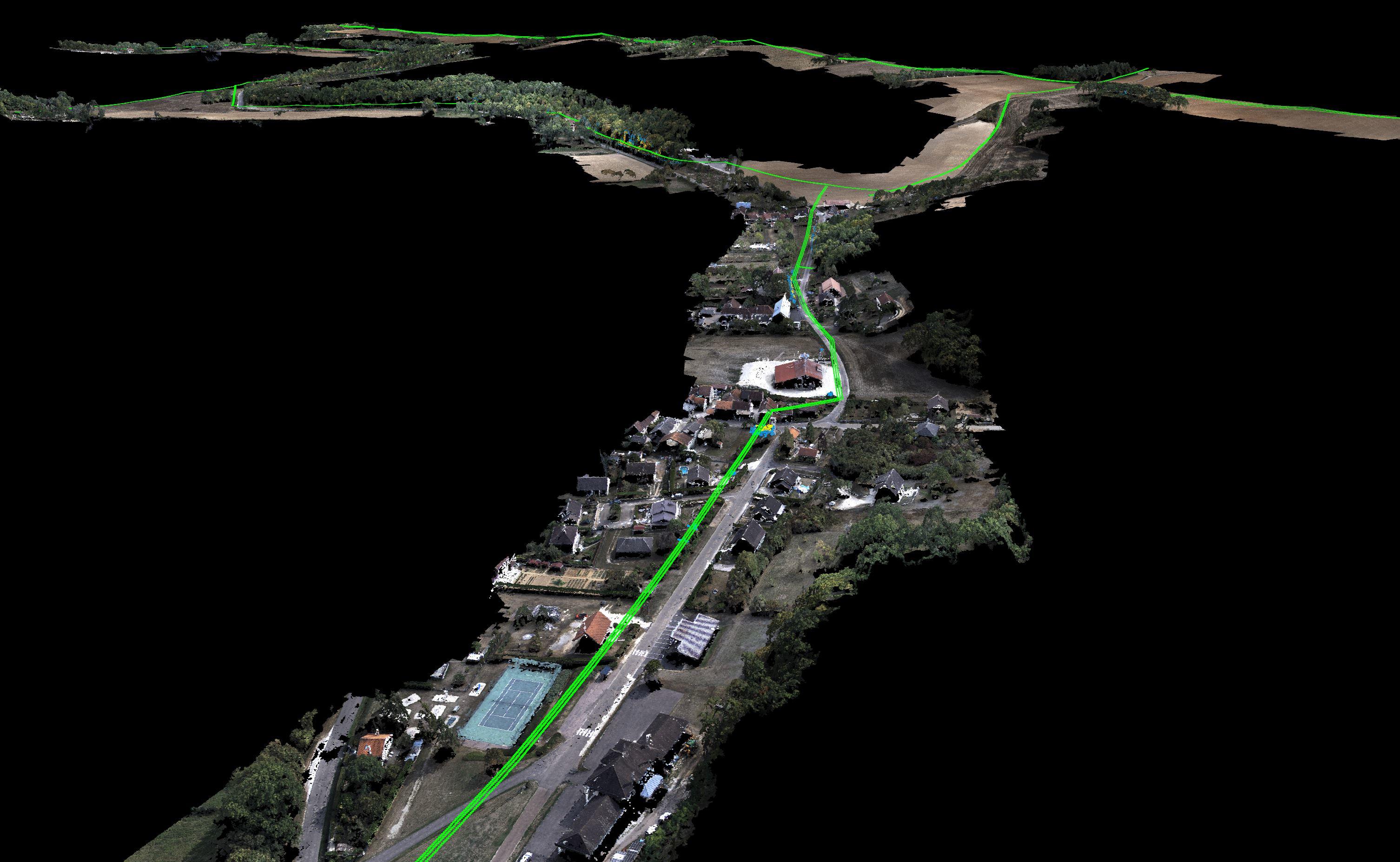 There are 1.3 million kilometers of power lines in France serving 36 million customers. Around 350,000km of these are aerial medium-voltage lines, which must be kept at a specified distance from trees or other vegetation.
With most of the French population relying on this network for their electricity, it is crucial that ENEDIS, the operator, maintains these lines effectively according to the country's official regulations.
If power lines are not preserved effectively, the energy supply can be disrupted, or, worse, they can become hazardous.
Goal: Improve power line inspections using long-range drones
"At ENEDIS, inspections are held every three years using helicopters with LIDAR sensors," explains Michel Cordonnier, Head of the Technical Department at ENEDIS. "They are also carried out on the ground by inspection agents at more frequent intervals, particularly for fast-growth areas."
While the present system works, ENEDIS is seeking a new inspection model that operates more frequently and increases productivity.
The ideal solution would not only offer a more precise and agile method of vegetation control, but also, in the longer term, enable ENEDIS to benefit from preventative and predictive pruning campaigns.
"With 350,000km of aerial medium-voltage lines, ENEDIS is actively interested in the possibilities that long-range drones offer in terms of regular inspection flights over our grids," says Michel Cordonnier.
For the moment we cover 110,000km every year, as well as inspections after unexpected weather conditions.
500km of power lines

 56 flight hours

19 days

 5 protocols with airports

3566km of BVLOS flights
First partnership in France between drone and power grid operator

Pilot is one of largest drone operations in Europe

No incidents, even in controlled airspace

Security protocols secured in five airports

DT18 first drone in the world to be BVLOS certified
Actionable Data Highlights
Preventative and predictive pruning strategies.
Digital twin of power lines.
Business analytics from AI-powered software.
Specific algorithms to solve vegetation encroachment.
Tailor-made vegetation control action plan.
Partnership: ENEDIS chooses Delair
Following a successful first collaboration five years ago, in 2018 ENEDIS partnered with Delair again on a pilot project that analysed 500km of medium-voltage power lines.
As the leading provider of professional drone-powered solutions for utilities in France, Delair provides end-to-end services at the highest level. To date, the project is one of the largest drone operations to be carried out in Europe.
Having mastered the drone value chain from mission risk assessment, flight authorisation and drone operation, to raw-data processing and business analytics, Delair is able to manage the entire campaign. During the pilot project, Delair's level of expertise regarding the flight, data capture and analysis meant that ENEDIS could focus on defining their digital data capture needs and the methodology for a new vegetation inspection flight model.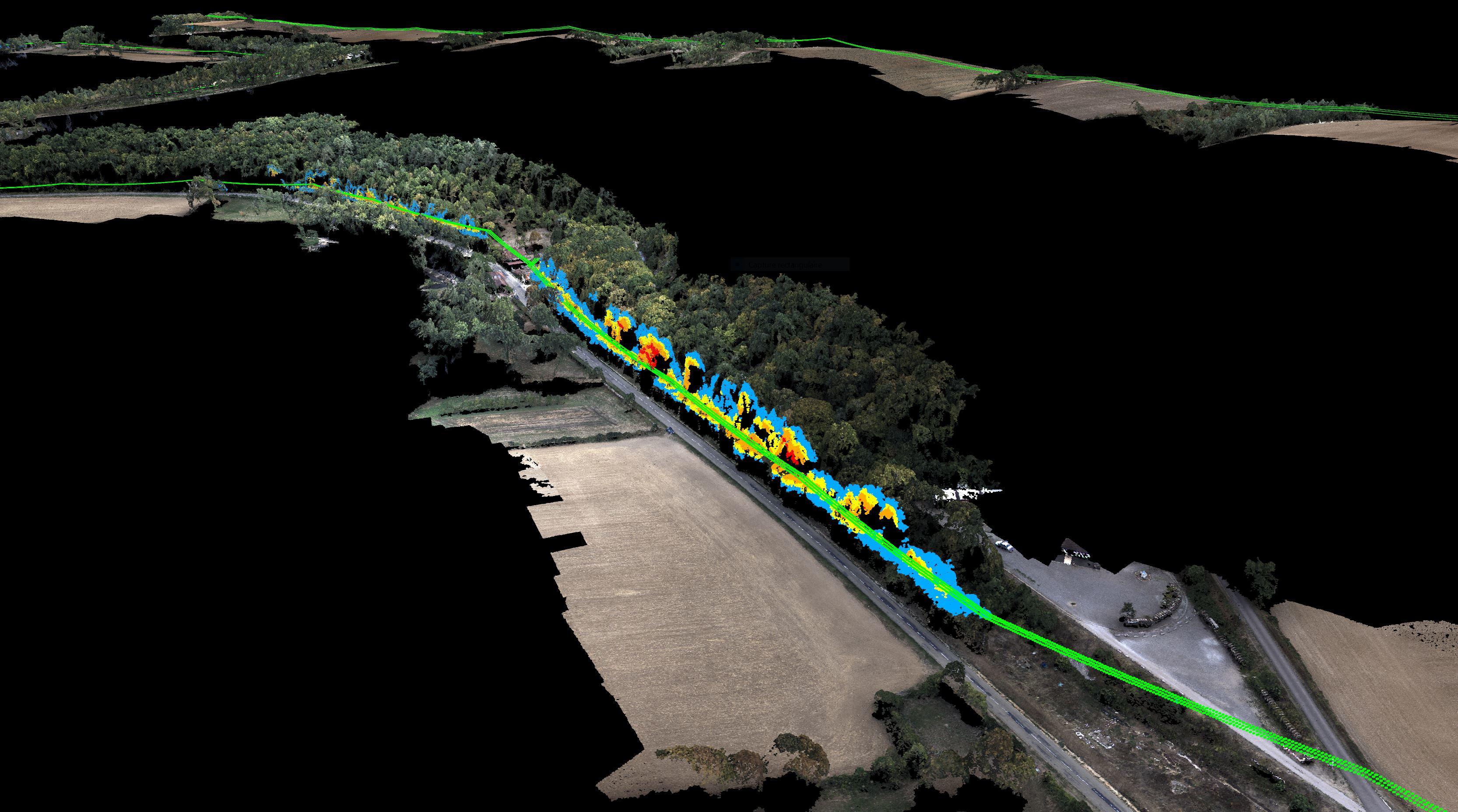 Pilot programme: one of the largest drone operations in Europe
The DT18 HD was the first UAV in the world to be certified for daily BVLOS (Beyond Visual Line of Sight) operations.
It was also the best choice for ENEDIS's 2018 pilot project, which covered a 500km electricity distribution network, making it part of one of the largest drone operations in Europe. With the ability to fly for two hours, the endurance and long-range communication capabilities of the DT18 HD are important features for corridor mapping power lines. Its 3G connectivity also means it can operate almost without limitation in France due to the extensive mobile network coverage.
Overall, the pilot project took 56 flight hours over 19 days and 3,566km of BVLOS flights to complete the mission. In fact, the entire operation was performed in BVLOS conditions, even in controlled airspace, as a result of security protocols signed with five different airports. Importantly, there were no incidents reported during this period, and Delair's UAV pilot was constantly in touch with the air traffic control towers to ensure the safety of the mission.
Results: a possible national solution
The processed data captured by the drone produces an accurate copy of the reality on the ground, including a digital twin of the power lines (dynamic digital representation) and the surrounding environments. The measurements are precise and automatically calculated by Delair's software platform, which is powered by AI and machine-learning techniques. It benefits from advanced data-processing solutions for vegetation encroachment, including specific algorithms. A detailed pruning action plan, tailor made according to ENEDIS's workflow and processes is just one of the deliverables that can improve their vegetation inspection procedures. 
ENEDIS is currently analysing the results from the pilot programme. Should the Return on Experience (REX) show operational and economic benefits, Delair's end-to-end services may be deployed into ENEDIS's official operations.
The solution proposed by Delair could be an alternative solution to the on-ground inspections, particularly for complementary inspections between three-year inspections. If our conclusions are positive, the solution would potentially be rolled out nationally.
Michel Cordonnier
Let's talk about how to optimise
your construction business