You may be losing money if you survey your mining site with a multirotor drone
Using a drone as a surveying tool in the mining and aggregates industries is a growing trend. It has proven to be an efficient and cost-effective way to do a site survey and make routine quantity measurements such as stockpile volumes or cut and fill. However, the operational costs associated with having a qualified surveyor to perform the work with a drone must not be underestimated, because as the old saying goes, time is money. Fixed-wing drones beat multirotors in terms of total cost of ownership.
How much does it cost to operate drones in mines?
When it comes to selecting the right drone for surveying from a total cost of ownership standpoint there are many factors to consider including:
equipment costs
personnel costs
size of the site
accuracy requirements
data collection time
turnaround time for delivery of map products
The Delair UX11 is a professional mapping drone designed for mapping large areas with great precision. With a streamlined workflow for mapping, advanced features for collecting accurate spatial data, and the backing of incredible customer service from Delair and its renowned distribution partners worldwide, it is no wonder that a Delair UX11 comes at a higher price than a consumer or prosumer multirotor drone. But is it really the purchase price of the drone that carries the greatest cost? In what types of scenarios does it make sense to start doing regular surveys with a UX11?
Having worked with hundreds of surveyors, mine engineers, and drone operators over the years, Delair has developed a good sense for when the economics point to using a professional fixed wing drone instead of a low-cost multirotor.
Let's take a closer look at the average total cost of operations over the life of a drone on a per acre basis for two specific scenarios, one for an open-pit mine and one for aggregates company with multiple quarry or stock sites.
Survey your mine at well under $1 per acre
Drones are a great tool for mine surveying because you can quickly and safely map large areas. Frequent aerial surveys can provide data that becomes useful for planning as well as measuring material quantities. Consider a mine with a surface area of 1,000 acres where the mining engineer needs to conduct a weekly drone survey of the entire site. Let's assume each drone yields data of a similar quality and that the selected drone is used weekly for three years.
In this case, the Delair UX11 becomes the most cost-effective solution at well under $1.00 per acre, whereas a multirotor with or without PPK will cost considerably more. While the initial hardware investment of a multirotor may be lower than a Delair UX11, the extra operational costs ultimately nullify the savings over the life of the multirotor drone.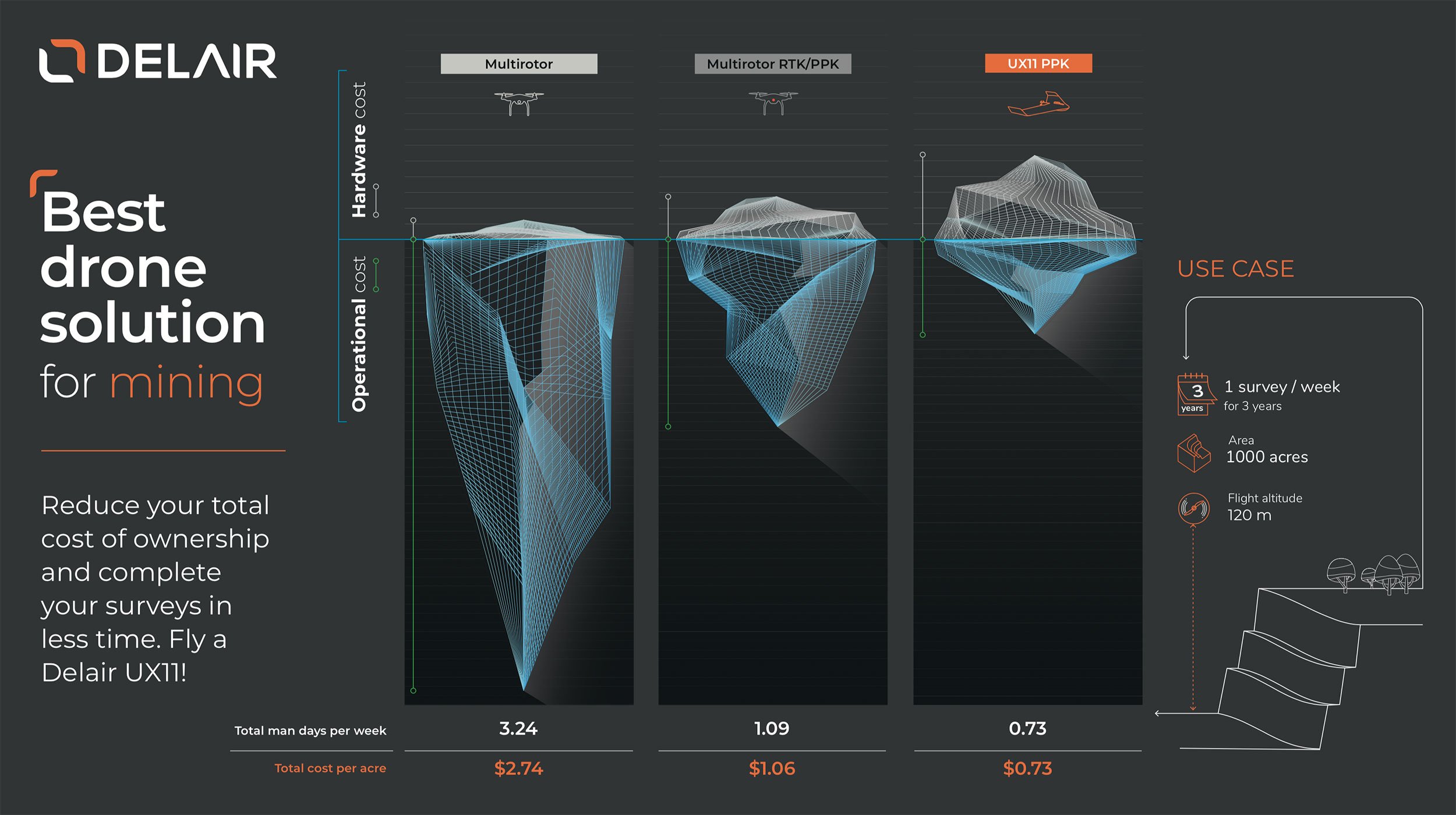 What's more, a tremendous amount of time is saved with a Delair UX11. A task that would take more than three days per week to complete when figuring in time to place GCPs and conduct so many multirotor flights, can be done in about 6 hours and only a few flights with a Delair UX11, including some time for travel and logistics.
Calculate monthly aggregates stock inventories faster with drones
Aggregates companies often face challenges when it comes to monthly stock inventories when they have multiple sites spread throughout a region and, ideally, all sites need to be surveyed within a very tight timeframe, only a couple of days. The faster these sites can get surveyed, the happier management and the accounting staff will be.
Consider an aggregates company who has eight sites of about 200 acres each. They want to do one survey per site per month over the course of three years, the assumed useful lifetime of their mapping drone. Again, the initial investment of a prosumer multirotor drone is relatively low, but the operational costs add up tremendously over time. Even in this case with conservative estimations, the Delair UX11 offers the lowest cost per acre ($1,33)  over the lifetime of the drone. But perhaps the best news in this scenario is the time savings. Getting all 8 sites surveyed with a fixed-wing drone within a 2 day timeframe makes a painstaking process more efficient and impatient accountants relaxed.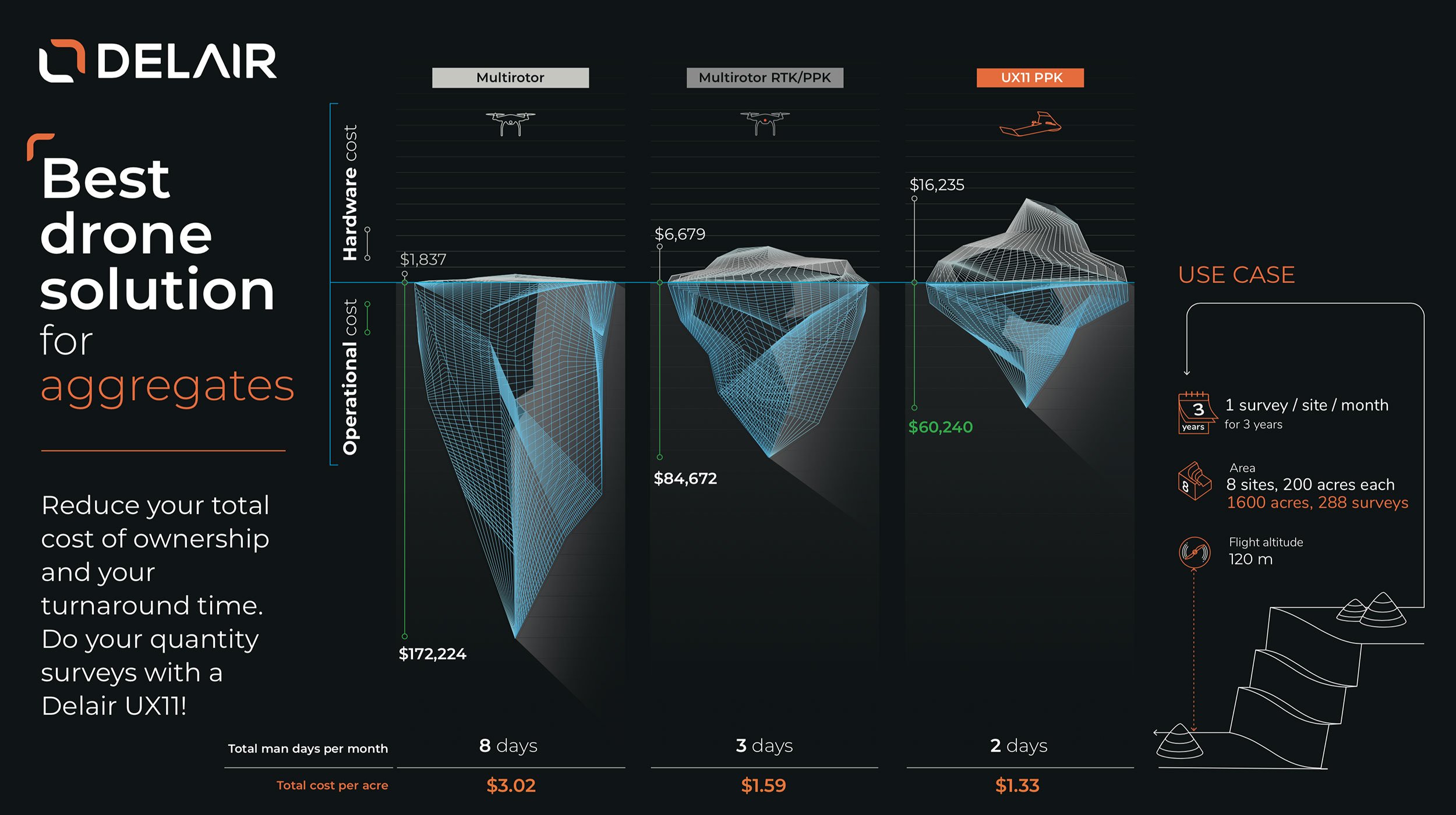 Based on both the mining and the aggregates scenarios, both time and money can be saved by using a professional fixed-wing mapping drone, the Delair UX11, vs a prosumer multirotor.
How to calculate the total cost of ownership of professional drones?
Where do these figures come from? The model used to calculate the total cost of ownership in these scenarios includes multiple monetary and temporal factors associated with the data acquisition (or field work) portion of a drone-based surveying operation to produce maps.
Costs accounted for:
Drone hardware
Spare batteries required
Estimated routine maintenance
Survey personnel labor for operating drone
Survey personnel labor for placing ground control points (GCPs)
Logistics overhead such as transportation and materials for the surveyor
Survey personnel labor (man hours) estimated for:
Drone operations
Drone preparation time between flights (battery swaps, flight planning, pre-flight checklist)
GCP placement
Transportation and logistics
Other variables considered:
Project area size
Flight height and overlap
Nominal flight time for aircraft per battery
Nominal surface area coverage per flight
Number of sorties required to complete project
Maximum number of flights feasible in workday
GCPs required for high-precision data without a PPK drone
GCPs required for high-precision data with a PPK drone
Assumptions made:
Typical flight height of 120 m and recommended overlap
A typical workday consists of 8 hours
Desired absolute accuracy of approximately 6 cm or 0.2 ft
Multiple GCPs are required when using non-PPK drones
No GCPs required for PPK drones
Each GCP takes 20 minutes of field time