How drone-based agricultural solution helps Innolea deliver enhanced scientific services for the French seed oil industry
The Delair UX11 Ag simplifies and automates phenotyping research through efficient operational features and centimeter-level precision images. Advanced analytics help Innolea experiment new crop analysis models for seed breeding shareholders.
About Innolea
Innolea, ex Biogemma, is a research company supporting the French oil industry, with activities focused in oil crop genetics and genomics. The company is under the control of three major French seed breeders in oil crops – Euralis Semences, Limagrain, RAGT Semences and the innovation fund for oil and protein crops, Sofiprotéol (which aims to offer new varieties to the market, with improved agronomy, and particularly plants resistance to climate changes, diseases and pests). Better oil seed productivity and quality are at stake  to meet an increasing demand for edible, industrial or environmental uses.
Innolea's mission is to contribute to the improvement of rapeseed and sunflower by promoting their adaptation to stressful environmental conditions, identifying favorable genetic variations and developing new tools to enhance them.
Looking for even more efficient research services to deliver to their shareholders, Innolea adopted innovative approaches to collect accurate, non-intrusive, frequent, and fast measures of traits in the fields, and help streamline the phenotypic assessment processes. They moved from traditional visual methods to automated and large-scale aerial data collection and analysis with the Delair DT18. After a successful experience with the Delair DT18 drones for several seasons, they bought an upgrade, the Delair UX11 Ag, in April 2019 to even better meet with their high scientific standards.
The need
Innolea's projects focus on improving the adaptation of rapeseed and sunflower varieties for agriculture, including accommodating for  abiotic stresses and biotic stresses caused by pathogenic fungi, parasitic plants or insect pests. By developing varieties which need less agricultural inputs (phytosanitary products, fertilizers, etc.) and water, these crops will be better adapted to future climates while more respectful of the environment.
These types of studies involve trait data collection and crop behavior assessment over the entire plant life cycle, which has proven to be intrusive for the plants, labour intensive, and costly with visual inspections.
Drones have recently become a very performant and productive tool for field observations and aerial phenotyping. Innolea decided to adopt the technology because they knew drones were capable of efficiently and quickly digitizing large numbers of microplots and generating phenotyping data at the plant level, and also to reduce the overall incidence of human error in visual inspection.
"The traditional vegetation stress identification relying on field agronomists to identify and compare visual symptoms on the ground is a long, admittedly subjective and error-prone process. So, getting accurate and objective information from the air with powerful optical sensors seemed to be the appropriate approach to us," explains Pierre George, Phenotyping Platform Manager at Innolea.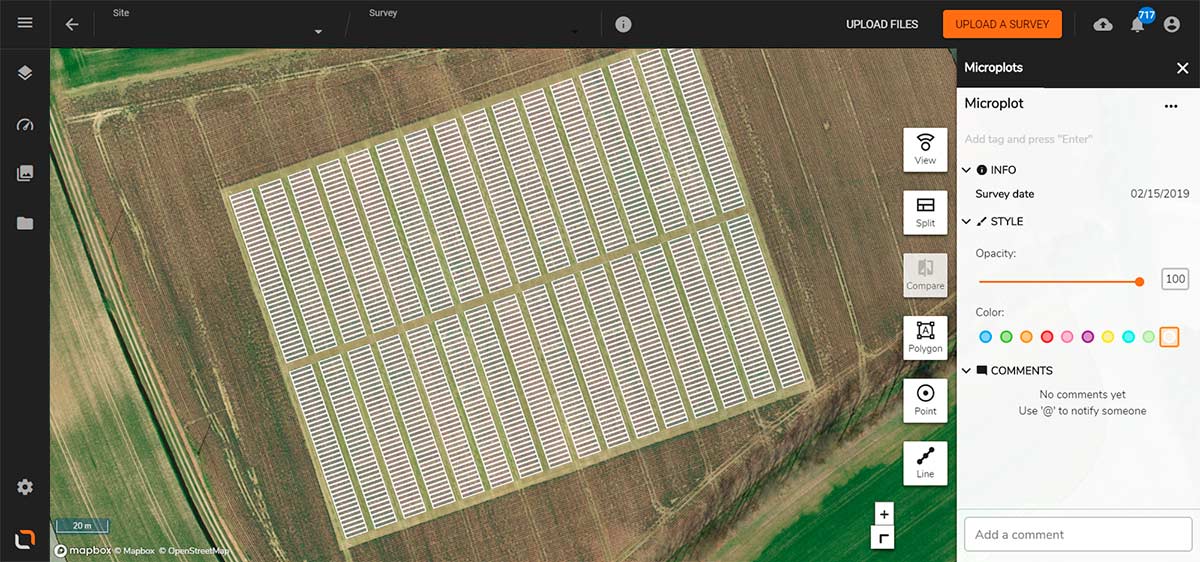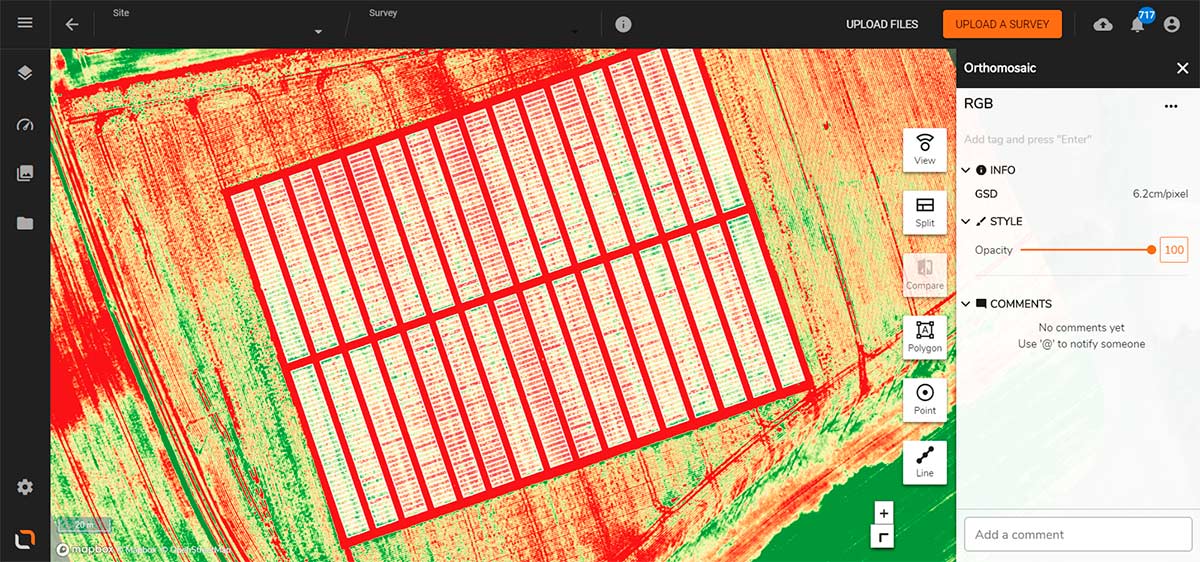 An enhanced end-to-end drone solution
Innolea decided to bring on the UX11 Ag for various reasons, including its efficient operational characteristics, its highly accurate images with centimeter-level precision, and its MicaSense RedEdge MX multispectral sensor.
The Delair UX11 Ag is a small fixed-wing drone that reduces Innolea's turnaround time to provide detailed surveys of their intensive field trial operations. With its speed of deployment and flight, the drone maps a larger number of plots in one single flight. 1,000 plots can be covered in a 10 minute flight with the UX11, and if the mission planning is included the time in the field is only 45 minutes.  Using traditional methods to cover the same work, Innolea would need 10 working days in the fields.
Once airborne, real time monitoring with on-board calculation of Normalized Difference Vegetation Index (NDVI) and red, green, and blue (RGB) gives Innolea's teams the flexibility to adjust flights and camera setting, as well as run a first visual assessment of the trial status while they are in the fields. As a result, the UX11 Ag ROI is extremely high, enabling them to see a payback in as  little as a few flights.
In addition, its ease of use makes the drone faster to set-up and deploy. "After a short training period by Delair, we were quick to adopt the drone, which is a very simple, easy-to-assemble and easy-to-carry system," recalls Pierre George.
Another interesting feature for Innolea on the UX11 Ag is the integrated multispectral camera that allows the drone system to realize high quality, precise and repeatable plant measurements.
"With the UX11 Ag camera featuring the multispectral MicaSense RedEdge MX sensor, we can extract the most popular traits to monitor the plant behavior over the whole life cycle, such as the leaf chlorophyll content and the green biomass that are direct indicators of the plant's vigor," says Pierre George.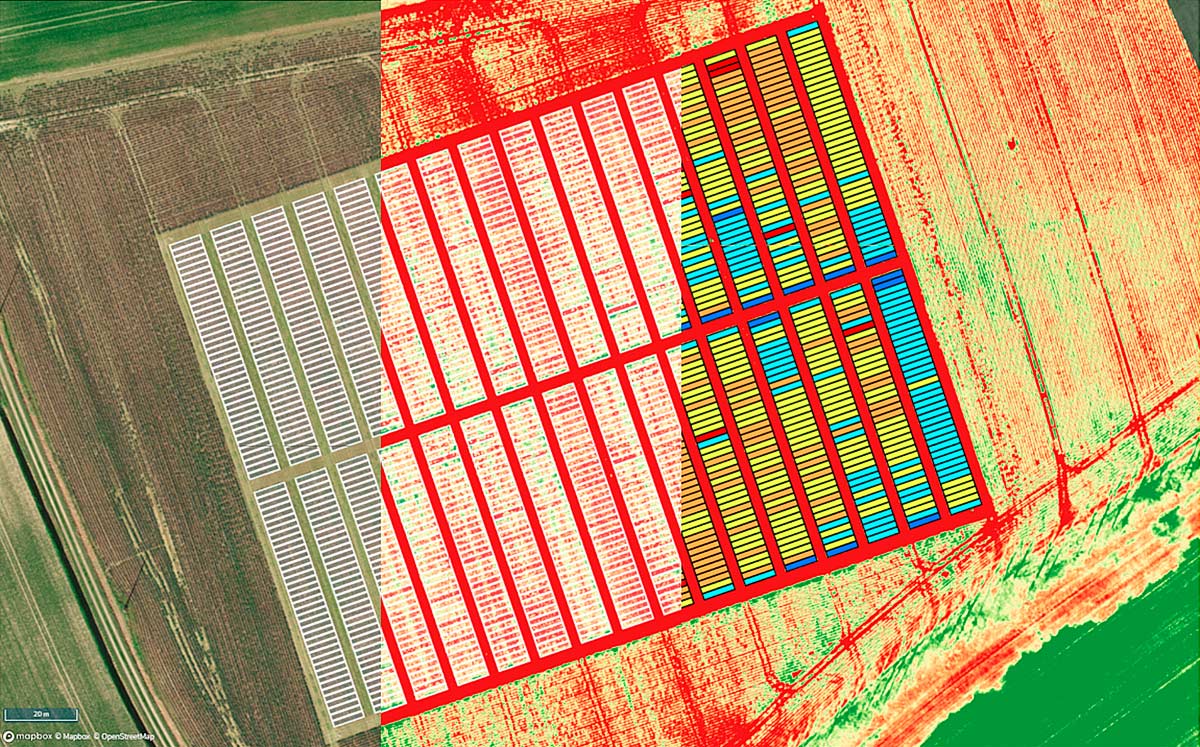 In order to measure sunflower or rapeseed plants' various responses to heat, nitrogen or pests, Innolea has also collaborated with Delair to explore new crop notation approaches that meet their specific research needs. This includes additional vegetation index that are chosen to be relevant to the characteristics of the new varieties that are targeted.
Once an experiment is complete, Innolea can upload the aerial images collected by the drone onto an aerial data managementcloud platform and get real-time access, during the entire crop season, to advanced analytics. At the end of an experimental inspection, they can upload  terabytes of images, yet only process and analyze the most relevant ones.
They have access to a set of tools for visual analysis and mapping of fields – with collaborative annotations and delineation capacities.