If you could discover a genuinely cost-effective and accurate drone-based approach to analysing each individual plant across your vast agricultural plots, how would that affect your business?
Cheap, unreliable drones with limited flying times are giving innovative, high-quality models a bad press.
Why? Because despite the initial cost of the drone being attractively low, high operational costs soar over a year leading to an untenable business solution – and negative, "fake news" media reports.
The result is that too many agricultural companies are missing out on a genuinely feasible way to significantly cut costs and analyse agricultural assets.
Click to display full screen image
A high-quality drone means low operational costs
By investing more up front in the hardware (CAPEX), the operational costs (OPEX) are significantly reduced.
When Delair compared figures for the long-range DT18 AG drone, which has been designed specifically for plant analysis, against data for cheaper models, the results were extraordinary.
Over a period of 12 months, a surface of 75,000 hectares and a flight altitude of 450 metres, the cost of using the DT18 drone overall was €40,000, which worked out at €0.50 per hectare.
Hardware costs were 25% and operational costs made up 75% over the total spend.
An analysis of the cheap drone – which requires multiple flights instead of one to cover the same area – using the same variables saw the cost reach €1,000,000, or €14 per hectare.
The purchase price of the cheap drone was 0.3% of the total cost and the operational costs made up 99.7%.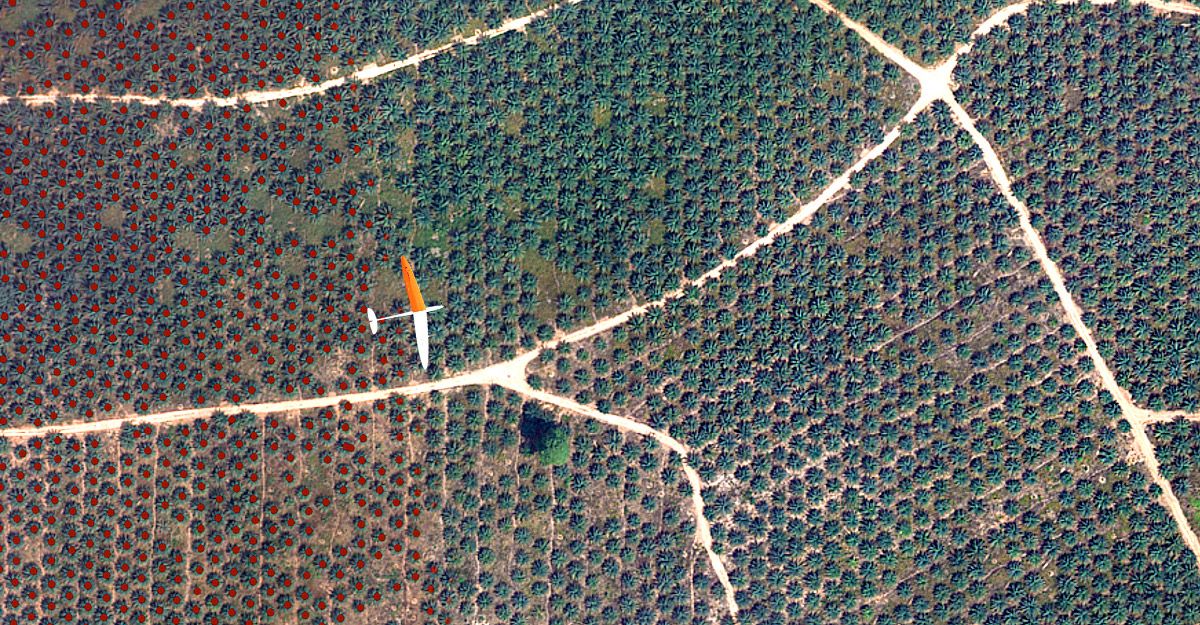 When you see a thirtyfold reduction in the cost of operations, it really does make sense to use high-quality, long-range drones in large-scale agriculture
Lénaïc Grignard, Delair's agriculture specialist
"The buyer's focus should be on the total cost of operations: the combination of the investment in drone hardware and the operational costs. The latter actually represents a much larger part of the overall expense of using drones."
A feasible way to shave 50% off your operations budget
A long-range drone for plant analysis with a RedEdge multispectral sensor, the DT18 AG has been designed specifically for precision agriculture applications.
After learning about the benefits of the DT18 AG, SIAT Group – an agro-industrial group of companies managing 42,500 hectares of oil palm plantations and 22,400 hectares of rubber plantations in Africa and Asia – purchased two drones to improve the accuracy and cost of their operations.
SIAT's targets include producing sustainable palm oil according to certification specifications and improving the way they manage yield. As the DT18 AG can fly far more than 10km away from the pilot it was suited to operate across SIAT's vast plantations, so they used it to map and survey the land, as well as measure elevation.
"By flying twice a day SIAT covered more than 1,500 hectares, and after 50 days they had analysed 75,000 hectares," explains Lénaïc. "It only took six months for SIAT to see a return on investment, and their costs were halved by our innovative aerial solution."
Digital intelligence for constant control of your crops
Eliminating human error, having fast, specific information on every crop, an acute awareness of plot behaviour and receiving data in real-time are just some of the ways Delair's DT18 AG can help you to dramatically reduce your costs and bring business intelligence power to your plants.
Delair's support doesn't stop when the transaction is made – far from it. The team will guide and support you through the entire process to ensure that each capability is exercised, and every function expertly executed, so you get the most cost-effective, time-saving results.
Delair is the world's leading commercial drone company, working with Intel across 70 countries to bring unique, innovative solutions to agro industries and farming.