PODIUM project's review of U-space: Delair's recommendations for drone traffic regulations
The full potential of aerial data has only scratched the surface. While key industry sectors such as construction, transportation and infrastructure, utilities, mining and agriculture are increasingly relying on aerial data to drive their businesses, lack of clarity surrounding airspace traffic blocks further progress. In the future, different types of aerial vehicles could provide an enormous benefit to society and the economy, however  a strong, regulatory framework needs to be defined and adopted at the global level by air traffic controllers in order for this future to be realized.
The SESAR Horizon 2020 PODIUM (Proving Operations of Drones with Initial Unmanned aircraft system traffic Management) project was designed to address the future regulations overseeing drone traffic, in cooperation with EUROCONTROL (the project coordinator), Delair, Airbus, Drone Paris Region, DSNA, Integra Aerial Services, Naviair, NLR, Orange and Unifly. PODIUM aims to develop U-space, which is the European vision for the safe, secure and efficient handling of drone traffic.
During the PODIUM project meeting in October 2019  at EUROCONTROL's headquarters in Brussels, Delair delivered its recommendations to support a safe, standardized and efficient access to airspace for large numbers of drones. Working towards this regulatory framework at the EU level, along with a clear roadmap aligned with the European aviation strategy for the safe integration of drones in the sky, will be a critical step for the drone industry's future.
Supporting U-space as a viable model for drones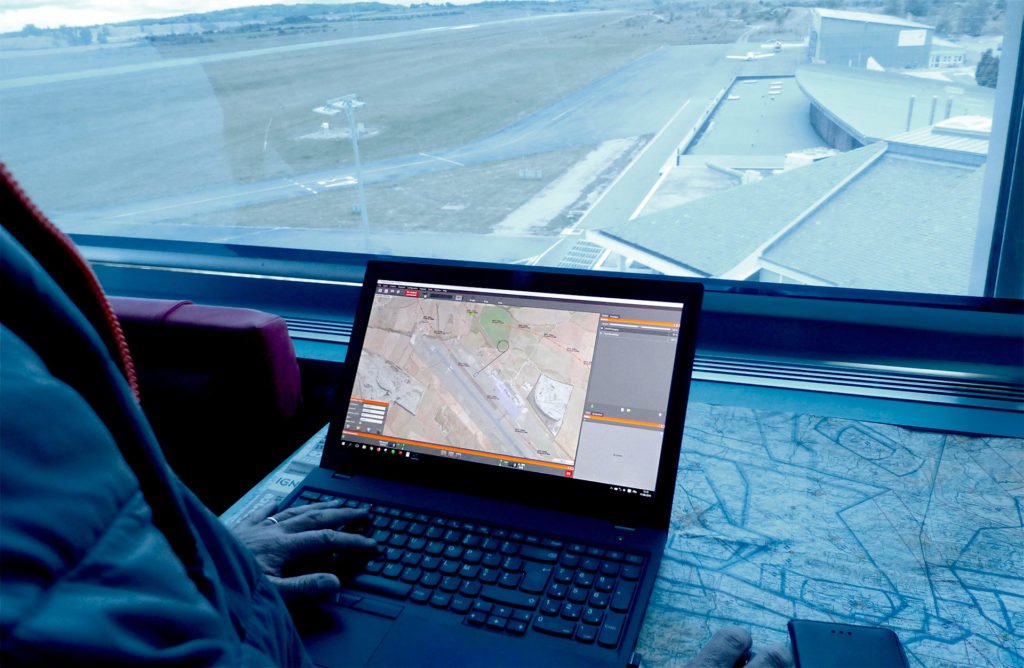 Throughout 2019, PODIUM partners performed real demonstrations of visual-line-of-sight (VLOS) and beyond-visual-line-of-sight (BVLOS) flights at different locations within Europe.
In France at the Rodez-Aveyron Airport, Delair's role consisted of:
As a BVLOS-certified drone manufacturer, to develop changes to the drone hardware in order for the drone to transmit its position, in real time, to air traffic controllers.
As a drone operator, to perform the flight and ensure drone pilots were able to communicate with controllers working in the tower, via a collaborative UTM (Unmanned Aircraft System Traffic Management) interface developed by Airbus.
Delair UAVs are last-generation fixed-wing drones, designed and built in France. These autonomous aircraft can be used for a variety of large area imaging, mapping, monitoring and maintenance tasks which were not previously practical, secure or even possible with other traditional or airborne approaches. Delair's systems are among the first civil drones in the world to receive the required certification for BVLOS operations. Delair's advanced expertise in flying fixed-wing technology under BVLOS in France has resulted in the company actively participating in governmental regulation drone programs in both Europe and the U.S.
Delair's recommendations for U-space
At Delair, we  believe it is important to maintain a distinction between the drone operator and the drone manufacturer to clearly and properly separate the responsibilities. This is currently done in France, but not at European level where the responsibility usually lies with the operator. The drone operator usually doesn't know the detailed design of the system, and is not capable of answering technical questions.
Delair's systems have been distributed across the world in thousands of units, which have flown over two million kilometers. However, we only have five pilots, so our experience as an operator is very different. As an operator, we've identified critical challenges to address:
Efficiency. Currently in France, airspace is segregated between drones and manned aircraft. Drone operators must declare their flights in advance, but different hazards may lead to inefficient use of the airspace (and more costly operations). Tools like the ones developed during the PODIUM project will help increase the efficiency of the operations by allowing to better share the airspace between different users.
Adopted standards for air traffic controllers. Each air traffic controller has a different opinion regarding drones, and due to the lack of rules their bias can sometimes dictate their reaction. It leads to uncertainty on the feasibility of each operation. Furthermore, the way of interacting is different each time. As a takeaway from the PODIUM-France demonstration in Rodez, we strongly recommend integrating the interface between the air traffic controller with drone pilot's GCS, in order to have a direct and standardized communication between the pilot and the air controller. This would allow for standard rules and communication.
Scalability to the international level. In order to scale U-space operations and services in an efficient manner, it is important to adopt standards at EU and international levels. Drone operators should rely on the same rules and procedures wherever they fly. This is key to the rapid and mass adoption of drone-based solutions by businesses across Europe – and globally.
The general conclusions of the October 17, 2019 meeting by EUROCONTROL can be found here.