Feedback from the SIAT group – Investment company for Tropical Agriculture: Delair long-endurance drones have halved its aerial data acquisition costs.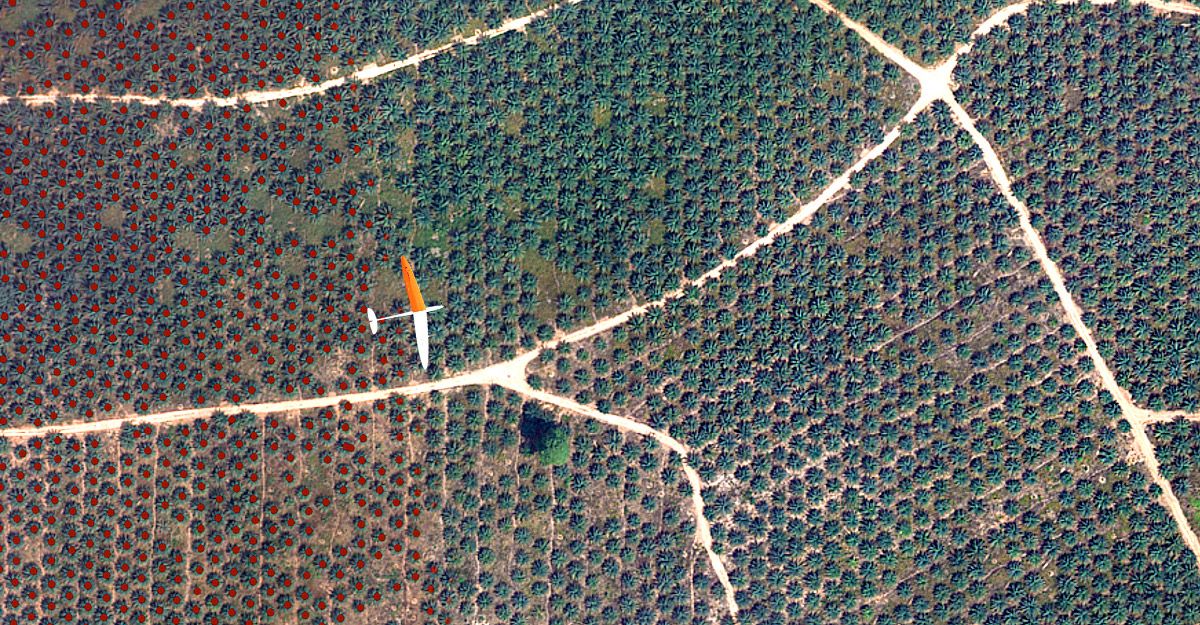 From sky to plate, drones serve both the industry and consumers.
Drones and low altitude aerial imagery have paved the way for new applications, significantly reducing costs and increasing the efficiency of agribusiness activities. Among the extensive range of professional use drones, fixed-wing drones stand out for their endurance, autonomy and productivity. They are capable of covering large areas in a single flight, up to 30 times more than a quadcopter drone, recording a multitude of information at plant level.
The collected raw data are analysed and transformed into concrete recommendations in sectors as varied as plantation management, agricultural experimentation and seed production, crop monitoring, or product traceability.
In addition, the resolution of the images and the flexibility of the drone solution make it more interesting than traditional aerial imagery solutions.
Arnaud Leidgens, head of drone activities at SIAT
Assess the cost to make the best choice in aerial intelligence solutions
Due to a poor choice of material that is not tailored to their needs, many professionals in the agricultural world are currently missing out on a genuine opportunity to use drone imagery to improve their productivity and reduce their operational costs. Before choosing a drone solution, it is important to assess its cost and specifically the Total Cost of Ownership (TCO).
The SIAT group manages 42,000 hectares of oil palm plantations and 22,000 hectares of rubber tree plantations in Africa and Asia. For the past 5 years, the company has been involved in sustainable development and certification of its production activities in palm oil (RSPO- Roundtable on Sustainable Palm Oil) and natural rubber. The company has set ambitious objectives for yields and production quality. To conduct a full diagnosis of its plantations, while reducing the cost of its operations, SIAT acquired 2 Delair fixed-wing drones.
With 2 drone flights per day, we analysed 1,400 hectares per day. Just 50 flight days are required to analyse a total of 75,000 hectares. After only 6 months of use, we had halved our operational costs and made a first return on investment
Arnaud Leidgens, head of drone activities at SIAT
The DT18 AG is a fixed-wing drone specially designed to aid agricultural decisions. It is equipped with a RedEdge multi-spectral sensor, capable of analysing the growth and the health of plants. The DT18 is the world's first fixed-wing drone certified for operations beyond the pilot's sight. In fact, it can fly 20 km from the pilot, with an autonomy of up to 120 minutes, and is therefore particularly suitable for mapping large spaces.
TCO

:

€40,000 a year, or €0.5/hectare

for a surface of 75,000 hectares. Includes the depreciation of equipment, manpower, logistics and maintenance.

Breakdown of the TCO:

Acquisition cost of the equipment: 25%

Operational costs: 75% (manpower, logistics and maintenance)
The choice of drone solution must be based primarily on the evaluation of the total cost of ownership of the solution. Contrary to popular opinion, investing in an expert drone solution significantly reduces its operational costs. An ill-adapted solution would have the opposite effect.
Lénaïc Grignard, head of the Agriculture & Forests range at Delair
Comparison with an entry-level quadcopter drone
TCO: €1m, or €14/ hectare

Since the quadcopter drone must perform 30 times more flights to cover the same surface as the DT18AG; labour and logistics costs soar.

Breakdown of the TCO:

Acquisition cost of the equipment: 0.3%

Operational costs: 99.7%
Let's talk about how to optimise
your agriculture business