delair.ai new release: Stockpile Self-Service and better coordinate system management
Stockpile Self-Service
Our Advanced Stockpile feature has been doing wonders for hundreds of mines and quarries professionals. Within a few clicks, it can generate an accurate stockpile inventory, thanks to an automated stockpile detection feature, volume calculation methods and a quality check done by Delair experts. This on-demand feature is well-suited for experts who work with large volumes of stockpiles on a daily basis.
For those who need to analyze fewer stockpiles, such as construction site operators, they may be happy to hear about our Stockpile Self-Service, a lighter version of the Advanced Stockpiles feature, available in your delair.ai layer panel.
Stockpile Self-Service allows you to manually delineate your stockpiles with a dedicated drawing tool. Once identified on your map, Self-Service works the exact same way as the Advanced Stockpile, but without any manual quality verification by Delair. It calculates your stockpile volume according to several available computation methods, such as the triangulated surface. You can choose the one that fits your operations. Then, you can assign the stockpile a material type and get the weight based on the material density. It's easy and fast.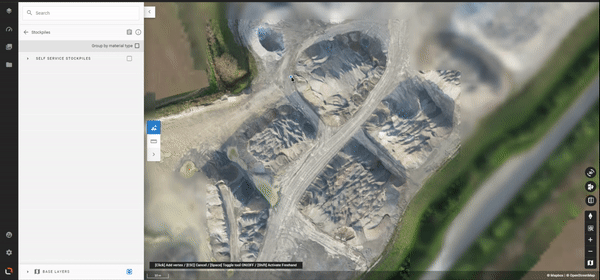 Last but not least, you can generate a report of your stockpile inventory in the format of your choice (CSV or PDF) within minutes. This is a game changer, especially if you need to share a quick report with your accounting team. Take a look at a stockpile inventory report sample here generated by delair.ai.
To learn more about how to activate and use our Stockpile Self-Service feature, watch the videos below.
In this video, learn how to activate the Stockpile Self Service module in your delair.ai layer panel.
In this video, see how to select a volume computation method for your stock
In this video, learn how to generate an inventory report from the new Stockpile Self Service module.
Editable Coordinate Reference Systems
We know how crucial Coordinate Reference Systems (CRS) are in photogrammetry. Setting up the wrong coordinates on your site, your GCPs or your imagery can make data processing and comparing surveys difficult. We have simplified the way we manage the coordinate systems on the platform. First, When you create a site in delair.ai, you have the option to immediately set up your CRS, or you can do it later in the site's settings.
Second, we also made the photogrammetry CRS management more flexible:
If your pictures have metadata, the input CRS will be filled automatically.
Every time you request  photogrammetry processing, delair.ai will by default use the desired output CRS system.
Optimized project upload 
Steps to complete your data upload have also been simplified to save you time and energy. In this video, you will see how seamless the data upload process is from site creation to photogrammetry order.
Keep in the loop regarding news on delair.ai by signing up to our newsletter.