delair.ai unlocks companies' capacity to collect imagery at a massive scale
Smart insights require quality imagery 
delair.ai's role has always been to help companies gain a much deeper understanding of their physical assets. Whether they are crops, powerlines or quarries, the challenge is similar: Analyze their behavior and track changes over time to increase operational efficiency and reduce cost operations.  
An absolute prerequisite for success is to ensure that data collected from these assets and their surroundings can be properly exploited. Quality is a crucial component to apply AI models and extract meaningful insights. In order to get good quality data, a lot of conditions have to be met: good timing, good weather, the right people, appropriate devices and sensors,etc..
For companies who have been using large amounts of visual data for years, across hundreds of sites with different sensors, being able to plan and manage their operations in a single place is critical in order to get feedback following imagery collection operations and validate data quality. 
Introducing Data Capture Manager to simplify the data collection process
delair.ai's Data Capture Manager is a new powerful, fully-integrated brick to make data acquisition and aggregation an easy process for those working  with large amounts of imagery.
In a nutshell, this module provides a coherent set of tools to collect quality imagery, to later be transformed into data and insights, in a timely and efficient manner. Initially designed for aerial data acquisition that you can plan ahead of time, such as drones or helicopter flights, Data Capture Manager is adaptive and entirely customized to the companies' specific requirements. 
From an operation management feature to a protocol verification, Data Capture Manager offers a structured process towards quality, ensuring incomplete or erroneous imagery doesn't make it into your digital twin.
Schedule and track data collection operations
One of the key benefits is the ability to track the progression of data collection operations.
It is now possible to schedule operations as tasks across a period of time, assign them to a team and share a set of data capture requirements (such as the resolution, weather conditions, overlap, time constraints, deadlines, legal authorisation,etc.).
Tasks can be tracked through status: Pending, ready, assigned, scheduled, completed. Images can be directly uploaded within the task to ensure a seamless workflow towards data analysis.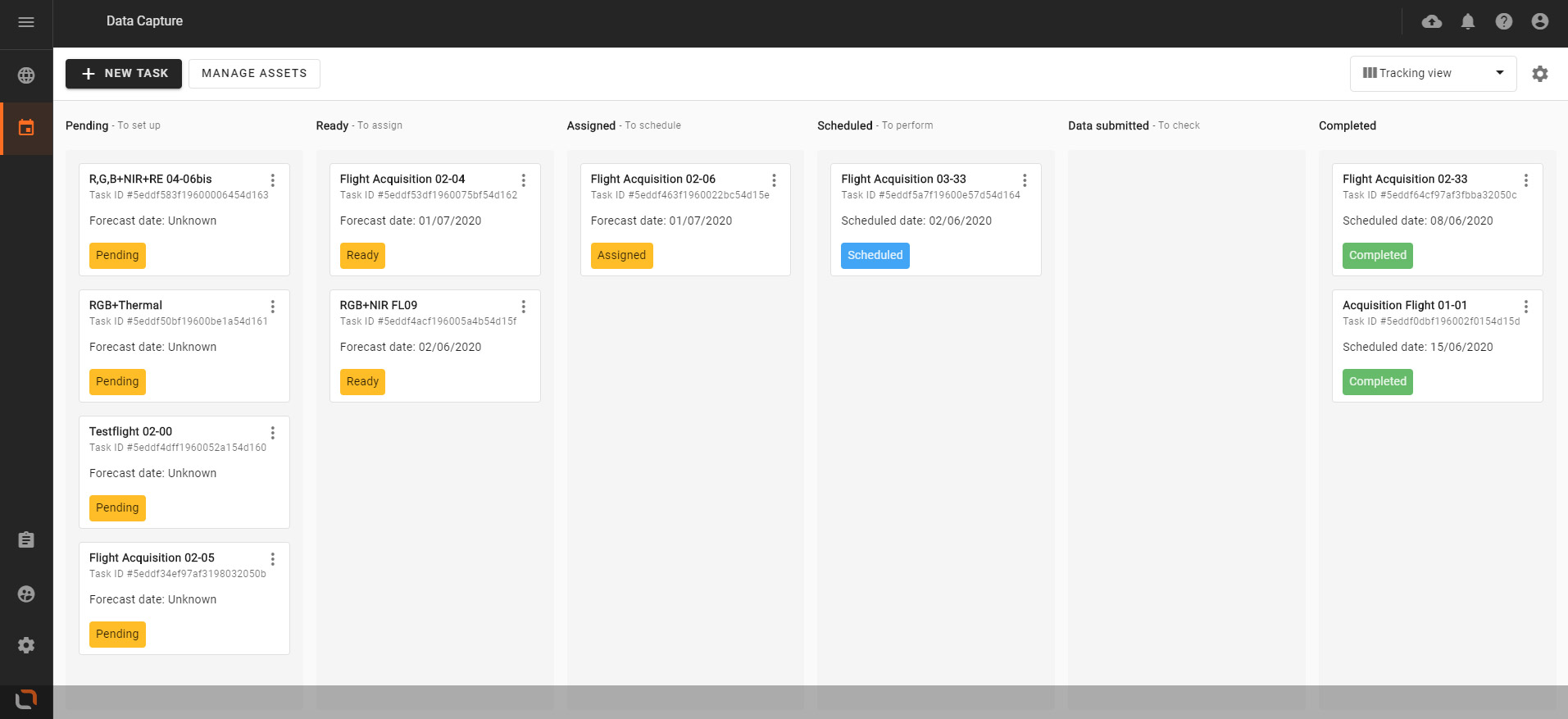 Tasks visualization is as simple as a Trello or Jira board. Users can oversee their tasks based on their status in this Kanban-style view.
Manage fleet and teams
Beyond the task tracking aspect, Data Capture Manager provides the ability to document all available human and material data capture resources. Remote sensors (RGB, LiDAR, hyperspectral), carriers, teams and professionals, can all be listed to maintain an up-to-date inventory. 
Users can assign pilots to a flight, check individual schedules and add existing operators on the team to ensure liability.  
Ensure data quality on images
We've made it easier to ensure data quality by automatically verifying the protocol with users after they complete their mission. A customizable form verifies the completeness of the tasks, while allowing pilots the opportunity to share qualitative feedback from their operations, such as weather conditions, potential incidents, interaction with other on-the-ground experts, etc. 
The Data Capture Manager provides a complete checklist, available both online and offline, to ensure data collected on the field meets all requirements, including flight parameters, sensor type, and overlap.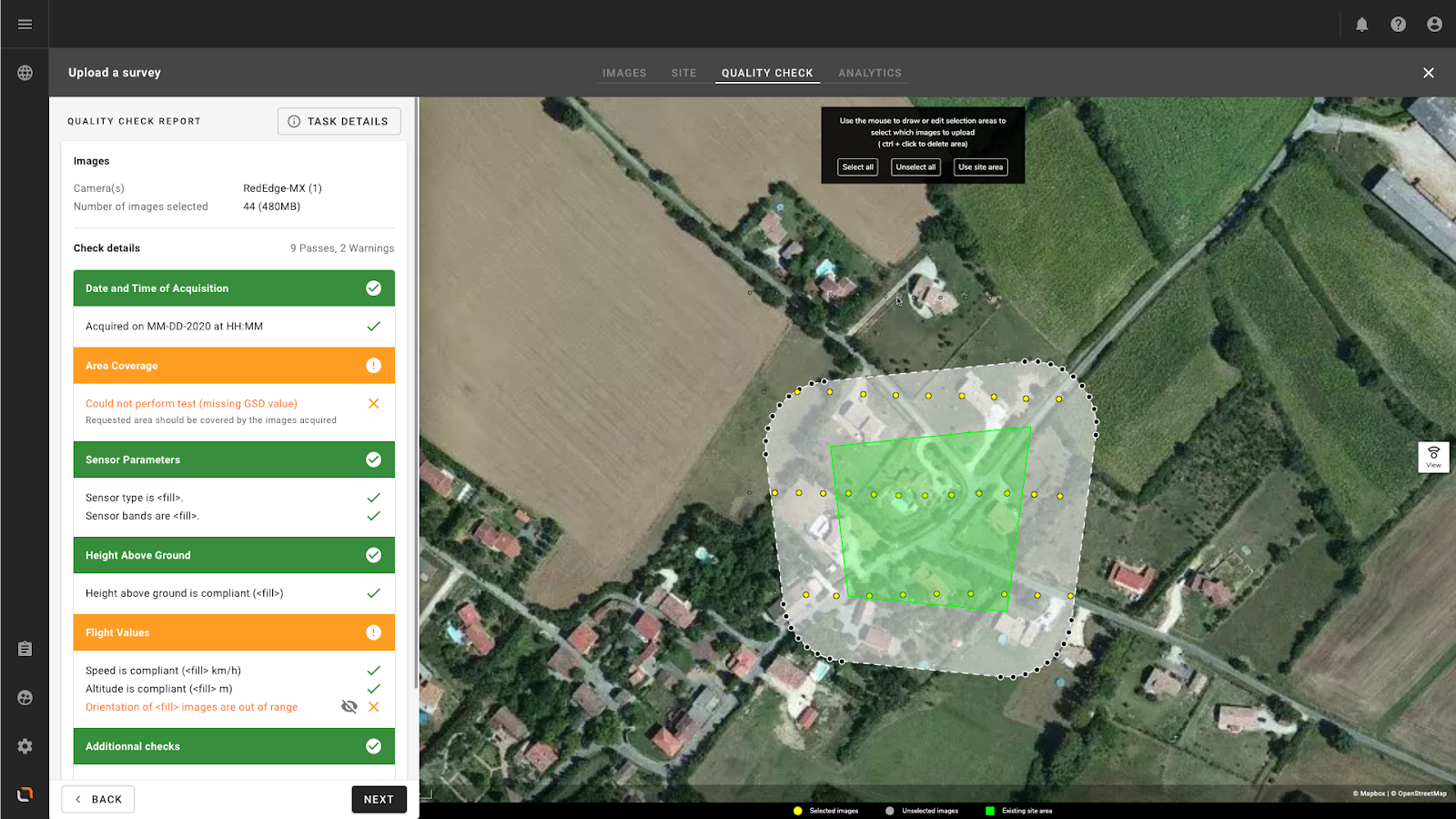 Quality check is automatically generated from imagery metadata.
Keep in the loop regarding news on delair.ai by signing up to our newsletter.